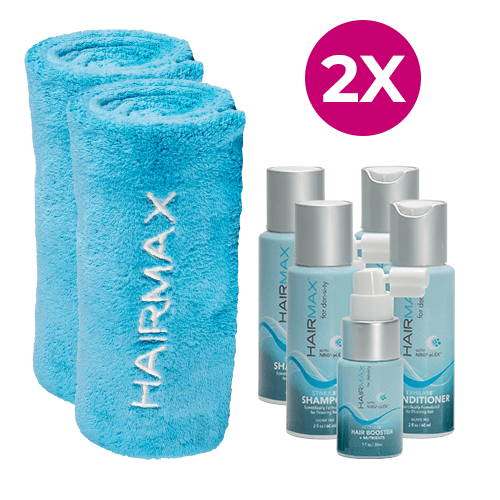 Couples Summer Travel Kit
Discount code "SummerTravel" automatically applied @ checkout.
Kit Includes:
2X Density 3 Piece Starter Kit
2X Quick Dry Hair Towel
Density 3 Piece Starter Kit
Blended with the unique biologically active NRG8-pLEX™, HairMax® Density Hair Care System is scientifically developed to energize and reactivate the hair.
2oz. STIMUL8 Shampoo
2oz. EXHILAR8 Conditioner
1oz. ACCELER8 Hair Booster + Nutrients

Save your hair with our ultra absorbent microfiber towel. Dry your hair quickly without the damage or frizz caused by most terry cloth towels. This super plush towel pampers your hair as it quickly dries by gently absorbing moisture. Your hair is ready for leave-in products, laser treatments or styling in no time.
Reduce your hair drying time by 50%!
Towel size: Large 19" x 52" (One size fits all)
Gently absorbs water without roughing hair
Significantly shortens air or blow drying time
Minimizes heat damage due to blow drying
Reduces hair breakage and frizz
Reduces damage due to roughing hair shaft
Reduces split ends