9 Good Reasons Hair Loss Sufferers
Are Choosing HairMax Laser Therapy

Are you watching your hair go down the drain? Have you tried countless failed DIY hair loss remedies? Tired of thousands of dollars wasted looking for a hair loss treatment?
This May Be Just The Solution You've Been Looking For!
1.

HairMax Is The FIRST FDA Cleared Medical Device For Hair Growth
HairMax laser devices have been granted a total of 8 FDA CLEARANCES* for BOTH safety & effectiveness.
HairMax is the industry leader, forever changing the way men and women treat their hair loss. Much like in nature, where light energy from the sun causes plants to grow, HairMax delivers laser light to energize hair follicles, reduce inflammation, reverse hair thinning and regrow hair!
2.

Clinical Data Proves It Works.
HairMax has invested in more clinical studies on laser light therapy for hair growth than ANY OTHER COMPANY IN THE WORLD!
SEVEN clinical studies on close to 500 men and women PROVE that HairMax regrows hair with an over 90% SUCCESS RATE! After just 6 months of use, study participants saw an average increase in hair count of 129 additional new hairs per square inch. The results were SO IMPRESSIVE that they were published in 6 medical journals.



Individual results my vary.
3.

The Results Speak For Themselves.
These photos show the hair transformations users have experienced using HairMax laser light therapy 3 days a week over 6 months. Imagine how much more SELF CONFIDENT would you feel with results like these!
4.

Say Goodbye To Drugs, Chemicals And Worrying About Side Effects.
HairMax gets to the root cause of your thinning hair by stimulating your hair follicles with nourishing laser light therapy. It's easy, it's EFFECTIVE, and above all – it's SAFE. Throw away those messy topicals, foams and pills and say "good riddance" to harmful side effects. Laser light therapy, delivered by HairMax is the ONLY FDA CLEARED* treatment for hair loss that works without drugs.
5.

100% Money Back Guarantee for 1 Year.
It's easy to buy and try. HairMax laser hair growth devices start at just $199, and your purchase is covered by a 1 YEAR NO QUESTIONS ASKED MONEY-BACK GUARANTEE+.†Need Financing? No problem, HairMax offers 3-6-or 12-month financing plans.


6.

They Believe That One Device Does Not Necessarily Fit All.
HairMax believes that one device doesn't necessarily fit all. That's why they've innovated a range of hair growth devices to suit every need - from MILD to more ADVANCED HAIR LOSS.
So, whether you have thinning at the temples, a bald spot forming, or overall hair thinning, HairMax has a device that's right for you.
---
There's a HairMax device for every budget, lifestyle and hair loss concern
Full scalp coverage
15 minute treatment


Special Feature: Easiest to use,
just put it on and grow. Flexible & comfortable
Cap Treatment


3 Laser Cap models from $799
Mild to Moderate Hair Loss
Fastest Treatment - as little as 90 seconds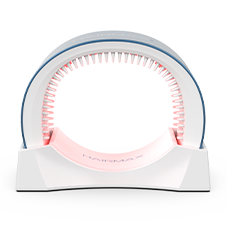 Full scalp coverage
Glide over scalp in 3 easy movements -
front, middle & back
Special Feature: Band design and patented
teeth part your hair maximizing laser
light delivery to your scalp.


2 LaserBand models from $549
---
7.

Busy Schedule? Can You Spare 90 Seconds?
With HairMax, there's no need to designate time or disrupt your day with lengthy sessions because it works FAST! You can complete your hair loss treatment in as little as 90 SECONDS. That's less time than most people spend brushing their teeth!  

8.

You Can Take It With You.
The key to hair growth success is consistent treatment. HairMax devices are lightweight, cordless and compact enough to pack into the smallest carry-on bag so you can use it 3 times a week, even when you're travelling.
No heavy, bulky helmets or external battery packs to carry with you. Just stow & go – and enjoy your treatments wherever your travels take you.

9.

The Media is Buzzing about it and SO are HAIRMAX users.
HairMax has received endless awards and accolades from trade publications, medical journals, beauty magazines and even TV news.
Trusted media sources such as NBC, The Wall Street Journal, Time, Allure, GQ, Today and many more are all abuzz about HairMax!

What our customers have to say!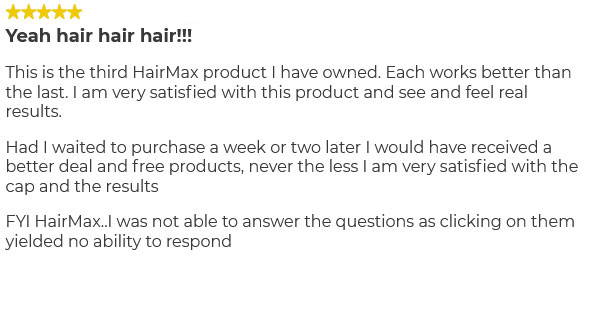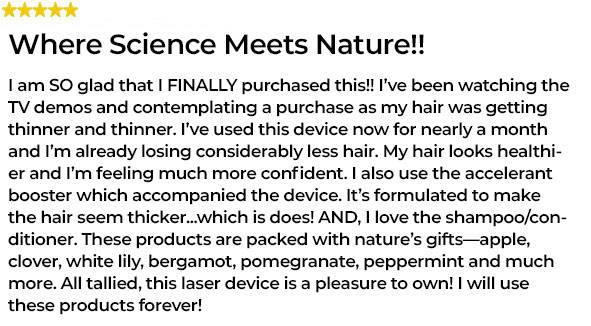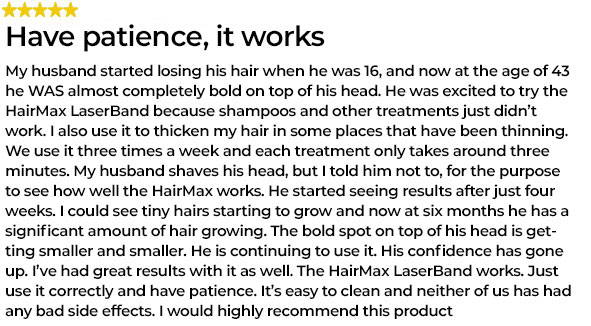 Take action NOW and join over 1.8+ million HairMax users around the world.

Say "YES" to HairMax today and experience amazing hair growth results for yourself.