True Stories of Hair Growth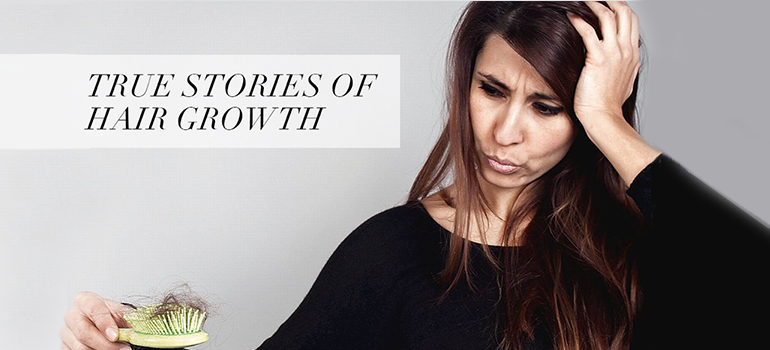 Most people start out in life with a pretty good head of hair. Over time however, those once luscious locks can start to grow weary (Pun intended). If you're noticing a dramatic reduction in the thickness of your hair, the pesky little thinning area in the back, or your hairline heading north … don't fear, it happens to the best of us. Hair loss is considered the unavoidable reality of the effects of time, aging and improper hair care – but it doesn't have to be this way.
The good news is, there's something you can do about – but you have to start right away. The longer you leave hair loss and thinning unattended, the more severe it usually gets.
So now what to do? HairMax to the rescue … but don't take my word for it …. Listen to the real HairMax users below … and you could be on your way to happy hair days, ahead!
My Hair Was Getting Thinner and Thinner. You Could See My Scalp.
"Losing my hair was very stressful and worrisome – Before using HairMax, you could see my scalp. HairMax stopped my hair loss – there's no more at the bottom of drain to worry about. My hair is grew in thicker … it sprouted again, it started to fill in – and I continue to see the results." – Dan M.
My Hair Is All Filled In. Hairmax Changed My Life.
"People don't talk about women's hair loss – you don't want to draw attention to yourself. My hair was thinning and you could see my whole scalp. I didn't expect hair loss at this point of my life. HairMax changed my life. When I first started noticing the new hair growth I was ecstatic. I called all my friends. Now I'm proud and happy and life is good!" – Susan B.
I Was Looking For A Hair Loss Solution Without Drugs Or Harmful Side Effects
"Hair loss was something that was very difficult for me to deal with. Being a young man and about to get married, negative side effects were not an option to me. After the first few months of using HairMax, I noticed new hair growth in both the back and front of my head – I'm very happy with it." – Michael M.
Anything I Can Do To Look & Feel Younger, I'm Going To Do – And That Includes My Hair.
"As a research scientist, I knew that low level laser therapy was effective for hair growth. I looked at the clinical trials, the peer reviewed literature, the medical advisory board and knew that HairMax was scientifically sound. This product has been a wonderfully successful product for me – my hair has grown in thicker, I have much more body, it's darker … for 4/1/2 months worth of use, I thrilled to have hair – thick hair, beautiful hair!" – Betty M.
HairMax's laser devices are recognized throughout the world as an effective treatment for most common forms of hair loss, including male and female pattern baldness. The use of low-level laser therapy has shown in clinical studies to be effective in improving the thickness and fullness of hair on its own, is often combined with proven scalp and hair re-growth products, like the HairMax den•si•ty shampoo, conditioner and exfoliator products, for a full hair loss treatment program.