HAIRMAX®
CERTIFIED REFURBISHED PROGRAM
Hair Regrowth with certified refurbished medical devices —
thoroughly inspected and tested to perform like new.
SHOP NOW
WHAT ARE REFURBISHED HAIR GROWTH DEVICES?
Hairmax® certified refurbished devices are lightly used products that have been thoroughly inspected and carefully restored to perform like new.
WHY BUY REFURBISHED?
Like new preformance at a price you'll love.

CERTIFIED
All Hairmax® devices are refurbished via our precision cleaning protocol using hospital grade disinfectant, and are thoroughly tested and restored to perform like new.

HAIRMAX QUALITY
Hairmax® is synonymous with innovation, safety, quality and effectiveness. Every refurbished device meets these same high standards.

SUSTAINABLE
Our refurbished program strives to reduce waste through reuse and recycling. Help you achieve your best hair possible while upholding a commitment to sustainability.
THE CERTIFIED REFURBISHED PROCESS
How does the Hairmax® certified refurbished program work?
THOROUGHLY INSPECTED
Each factory-refurbished device is thoroughly inspected repaired and tested by hand, restoring it to like-new electrical and mechanical condition.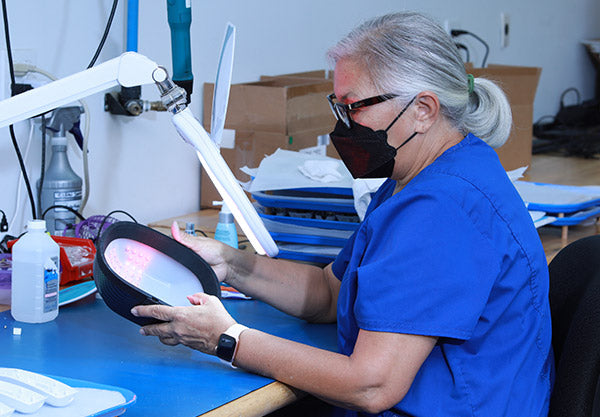 CAREFULLY REPACKAGED
Once fully restored and cleaned, refurbished devices are carefully shipped to you in new packaging. You'll find all required parts along with product manuals and guides.
WARRANTY & SUPPORT
All Hairmax® certified refurbished devices are backed by the same 6-month money back guarantee and 1-year limited warranty* as our new devices. Our continued support will help keep your device working at peak performance with efficient customer service and even easier access to help when you register your warranty.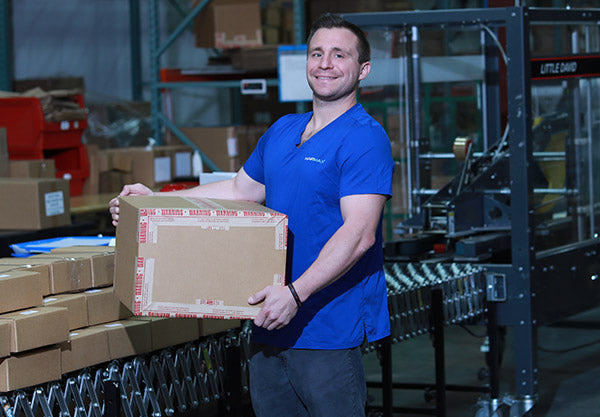 REFURBISHED LASERCOMBS
Select from our factory restored LaserCombs.
FREQUENTLY ASKED QUESTIONS
Are refurbished devices reliable?
Hairmax technicians inspect and test all refurbished hair growth devices to ensure proper electrical and mechanical operation. If any part is damaged or hinders functionality, the part is replaced during the refurbishing process. All other parts and components required for operation are replaced as needed to return to the original electrical and mechanical condition. Refurbished Hairmax devices include a 1-year limited warranty* on parts and labor.

What does a refurbished device mean?
Hairmax® certified refurbished devices are products that were returned after the initial purchase. Sometimes the device is returned unused, other times the product has been lightly used. All devices that undergo the refurbishment process are thoroughly cleaned using hospital grade disinfectant, inspected and tested to ensure original electrical and mechanical operation, as well as checked for any major cosmetic defects.

What comes with a refurbished device?
All parts required for operation are included with your Hairmax® certified refurbished device. Each refurbished device will also include all manuals and guides needed to operate the product such as Quick Start Guides or User Manuals. Refurbished devices are packaged carefully in new packaging.

Do Refurbished devices look new?
Hairmax technicians inspect every certified refurbished device for cosmetic defects such as scratches, blemishes, cracks, or stains. Parts with major cosmetic damage are replaced. The entire product is then cleaned by hand inside and out before being carefully packaged and sent to your doorstep.

Should I buy a refurbished hair growth device?
Refurbished devices are a great choice if you are on a budget, or if you are looking for a sustainable way to shop. Because refurbished device availability varies, device models may be limited. However, a refurbished device is a great way to add Hairmax Laser device to your hair care routine, to treat hair loss and stimulate hair growth, at a lower price point than the original new product MSRP.

Can I return my Refurbished device?
You may return your device within 6 months per our Money Back Guarantee policy, or as permitted by the Hairmax product warranty. Returns are subject to the Return Policy available on this website. See Return Policy.


NEED ADDITIONAL HELP?
Use the quick links below for fast, easy access.